Welcome
The work of Colin See-Paynton is truly remarkable in its detail and beauty. His Wood Engravings, held in many major collections, display a love and understanding of nature as well as the skill of a master engraver.


Colin See-Paynton and Sir David Attenborough at the launch of the book 'Of a Feather' at the Society of Antiquaries, Royal Academy, London.
The book is currently on show at the State Library of Victoria, Australia
Colin See-Paynton has introduced yet another vision to the rich tradition of wood engraving. His delight in the lines of a bird so elegantly inscribed by the cut of his graver, his skill in varying texture even though he only has black and white with which to do so, his palpable pleasure in composing his subjects into joyous designs have brought something new to the portrayal of birds. It is a true privilege to provide these few words to introduce them.


Sir David Attenborough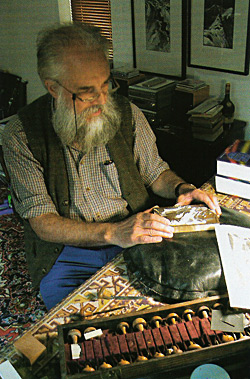 In 1972, See-Paynton moved to a remote farmhouse in Wales, on to which he built his studio. Entirely self-taught as an engraver, he began to make prints in 1980 and has since produced over 250 editions.
Colin has brought a new vitality to one of the earliest forms of printmaking. Although his work is based on the meticulous observation of the natural world, his talent is to invent compositions which distil the ecological and behavioural relationships of the species and their habitats. He uses his knowledge and imagination to construct engravings of great complexity and refinement and has evolved something new by the patterning and layering of his images. Later compositions, particularly those from an underwater viewpoint, use an increasingly abstract and fluid line to capture the fast and fleeting movements of birds and fish.
Colin See-Paynton is a Fellow of the Royal Cambrian Academy, Honorary Fellow of the Royal Society of Painter-Printmakers and a member of the Society of Wood Engravers. He is widely regarded as the leading exponent of wood engraving in the United Kingdom and his work is represented in many private and public collections around the world including the V & A, Ashmolean Museum, Berlin Graphothek, Fremantle Museum & Art Gallery, Australia, Gaudi Salon, Barcelona, Guangdong Museum of Art, China, National Library of Wales, National Museum of Wales and the Yosemite Wildlife Museum, California. He has travelled with the Artists for Nature Foundation to the Pyrenees and to Alaska to record and highlight through his art the threat to wildlife caused by man's exploitation of the natural resources of these areas.